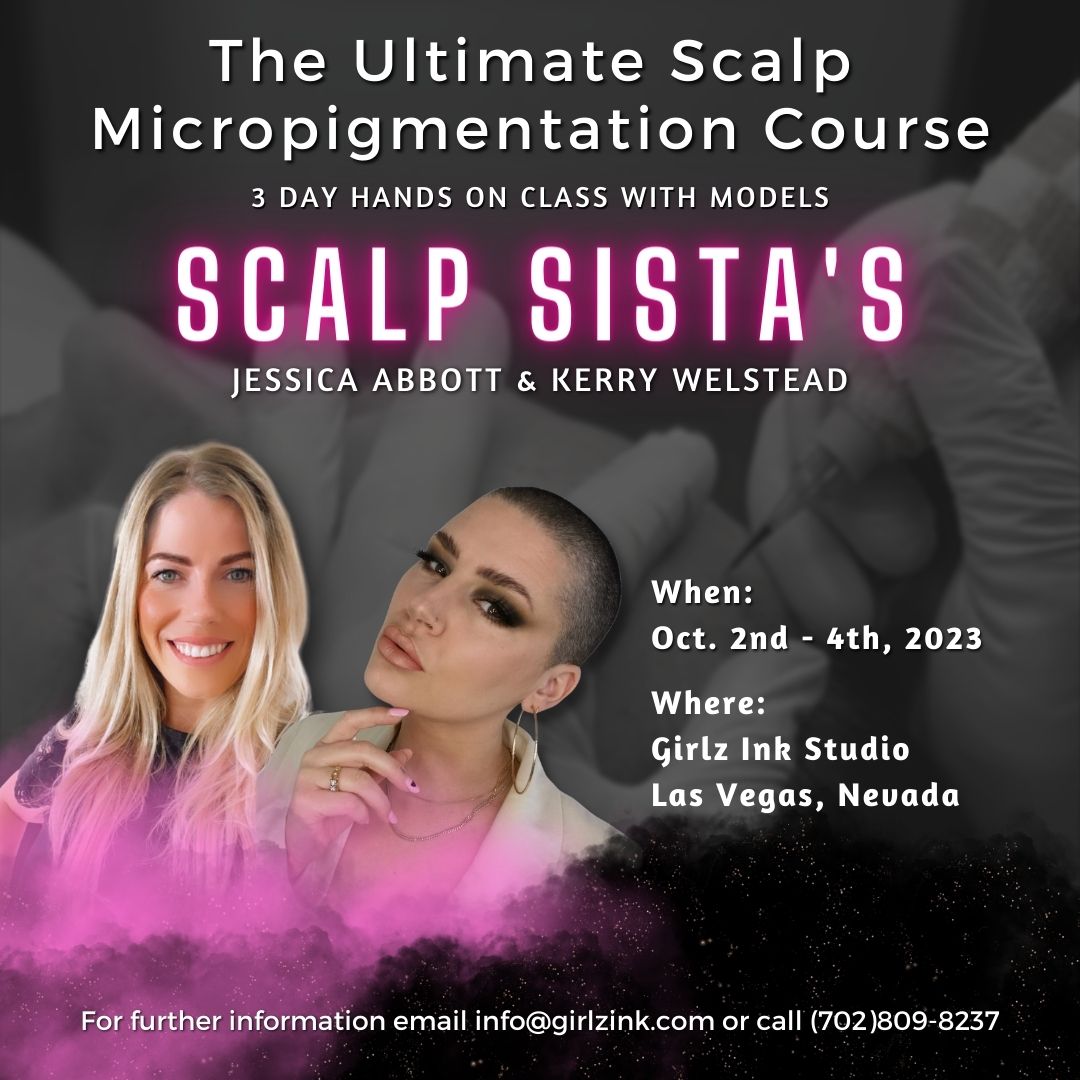 The Ultimate Scalp Micropigmentation Course with Scalp Sista's
We are excited to announce that we are hosting two of the best in Scalp Micropigmentation from UK, The SCALP SISTA'S!! They will be coming to Girlz Ink Studio in February to teach their highly sought after techniques! Continue reading for further information about this AMAZING class!
About the Trainers
Jess & Kerry aka Scalp Sista's from the UK have both worked as Permanent Make Up Artists for many years now with combined experience of around 15yrs and Scalp (aka SMP) for many of these too. They are utterly obsessed with what they do and this is why they want to share it with you! Like any industry, there is some amazing education, training and skills out there and of course there will be less so. Education, ethics and quality of work are something they are both strongly passionate about, they want to produce and champion all their students to become elite industry artists, producing top quality, creative work as well as being educated artists. They pride themselves on their ability to deliver quality theoretical and practical training to students who have little to no background in PMU/Tattooing as well as seasoned artists. They are both internationally accredited trainers with their own training schools in England as well as Scalp Sista's together.
Why Scalp Micropigmentation?
Hair loss effects so many people in many ways and for many different reasons. Sadly, more often than not, they are at a loss as to how to overcome it or what can even be done to improve it. The emotional impact of hair loss can actually be quite traumatic for many and really affect their confidence and self-esteem, so to be able to offer a solution to this is pretty incredible. The types of clients you can see is so varied from ladies suffering with post-partum shedding, hormonal hair loss, inherited female pattern baldness, alopecia, stress related hair loss as well as men with thinning, failed hair transplants or scarring from transplants as well as male pattern baldness. Let us tell you, no treatment will ever leave you feeling unfulfilled, when your clients see the instant results – from just one session and throughout their SMP journey, it literally is the best feeling and most rewarding job EVER! To be skilled in and qualified in such an artistically rewarding niche treatment is incredible.
Is there a need for it? Can I really make money from this?
Here in the UK, like many other locations globally, SMP is a very under saturated market, especially for highly skilled, quality producing artists. Think of people you know in your immediate circle, be it family, friends, colleagues – there will undoubtedly be people who you can already identify as potentially candidates for SMP, then expand that, think of acquaintances, think of friends friends, your local salon or barbers, your gym, kids playground – then imagine if you then expanded this and actually advertised and connected with lots of local business, hospitals, clinics etc. just how many people there would be out there.
How much is the course?
Their exclusive, accredited SMP course is launching in the US and being offered at an introductory price of $3,800 (regular $4,750) – that's a huge saving of $950!!!
This includes:
– Full pre study manual – yours to keep!
– Ongoing support post course
Full beginners kit (needle cartridges, high quality pigment, TONS of consumables & work book) – all students will be eligible for a unique discount off machines and consumables from the Girlz Ink Store, only available to our students.
– Theory, practice, practical demonstration, practical work for students
– Internationally Accredited Certificate
How to reserve your seat!
To book onto this exclusive course and be part of our stateside family, all you need to do is email [email protected] or call (702)809-8237 to pay your nonrefundable booking fee of 20%. Then that's it – your space is secured. Final balance is due 45 days prior to the course starts date. We cannot wait to welcome you as part of the Scalp Sista's crew!
If you have further questions or want to see the full class schedule please email us to [email protected]!