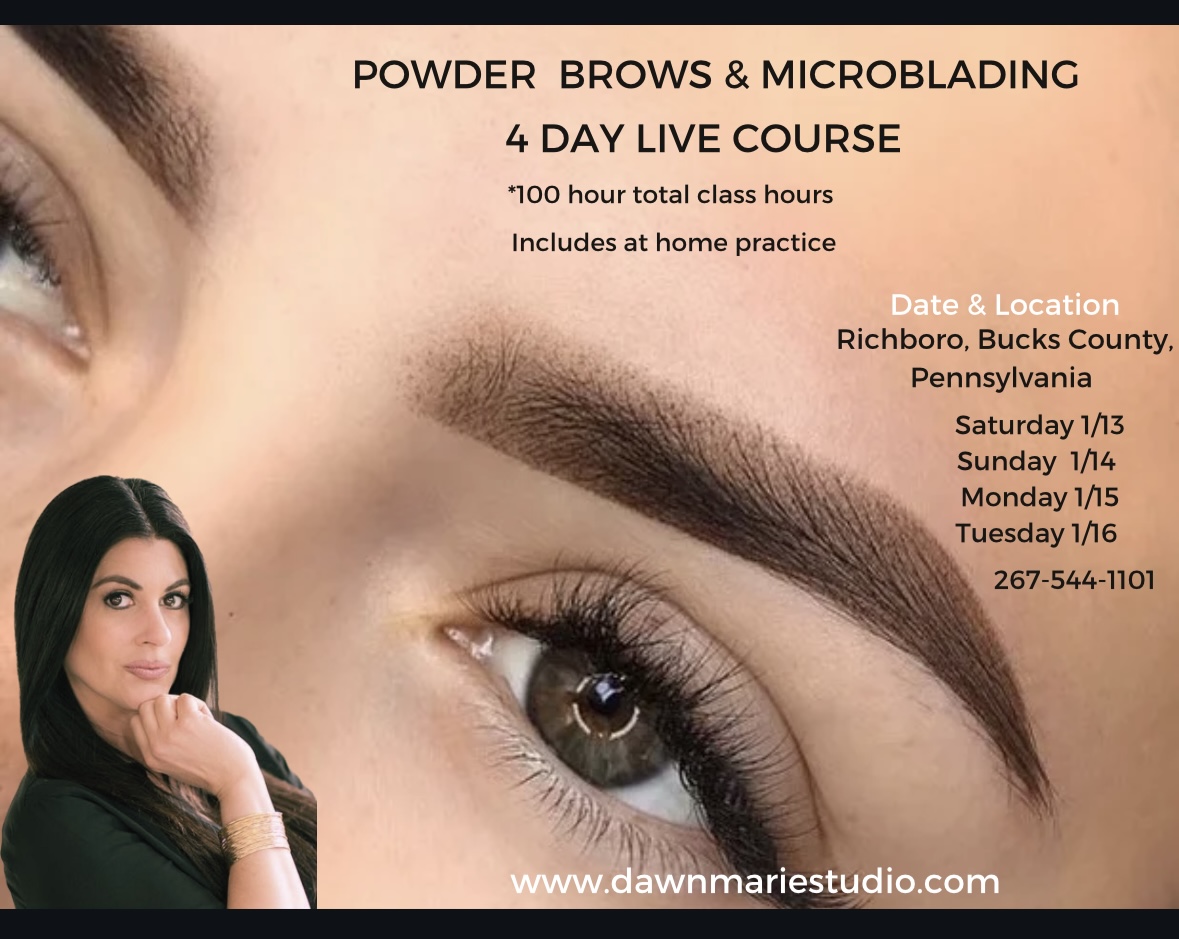 Powder Brows & Microblading 4 Day Live Course with Dawn Marie
4 DAY TRAINNG
Day 1 – Introduction, Brow Design and Brow Mapping, Introduction to Microblading, Microblading Head strokes, spine, transition, upper stokes and lower strokes. The process of numbing and the difference between primary and secondary numbing agents, learn the secret to not losing the shape!
Day 2 – Microblading upper/lower spine strokes. Pre/Post care instructions. Contradictions when not to carry out the treatment. Safety and sterilization.
Day 3 – Introduction to Powder, combo and ombre brows! Machine movements, learning the different needles configurations & needle codes. Inventory list, forms and marketing.
Day 4 – (off Oct 24 for additional practice)- Live Model day. As the student you will be working on a model. The student will be map the models brows. Dawn Marie will do all first passes of microblading on the models. The student will then do a second pass on the model and machine shading creating a beautiful combo brow.
What you will be learning:
The fundamentals of Permanent Brows with 4 brow styles including, Microblading, Powder Brows, Combo Brows and Ombre Brows.
Brow Design/Brow Mapping
Microblading techniques, headstrokes and stroke patterns
Machine and needle training
Powder Brow training technique and movements
Ombre Brow technique
Combination Brow technique
Pre care and Post care process
Pre numbing and Secondary Numbing
Pigments and Blades
Safety and Sterilization
Forms, tools and inventory products (where to purchase everything)
***additional 60 hour at home practice*** student will submit work to pass levels"
Models are provided by the students and the model fee is $150. If the student can not find a model, a model will be provided.
Class Includes: Manuals, morning snacks and coffee, practice kit with pmu machine included, certificate of completion (after additional at home practice levels are passed)
Day 4 lunch party included
Visit Dawn Marie's website at www.dawnmariestudio.com and click book an appointment to reserve your seat!