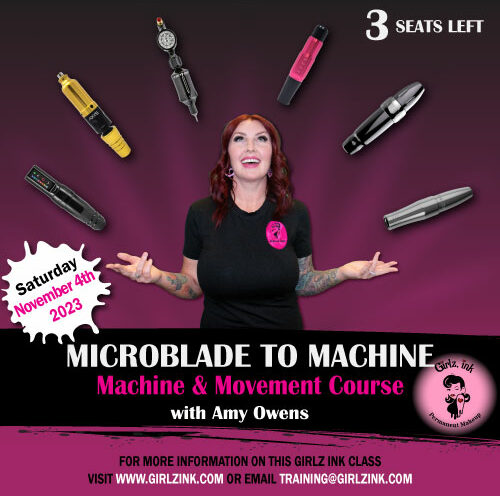 Microblade to Machine Conversion Class
The Girlz Ink Microblade to Machine Conversion Class is world famous and has been selling out for the last 6 years due to the quality and structure of the class. If you are a microblader or handtool artist and want to convert to machine or you just want a better understanding of machines this is the perfect class for you. Come learn all machines, power boxes, wireless battery packs, foot pedal, cords and all the movements and techniques used with machine work.
The Girlz Ink Microblade to Machine Conversion class is laser focused on introducing and transitioning the hand tool/microblading artist over to the machine. Before buying a new machine and making that big commitment its important to make sure you are choosing the machine that fits your wants, needs, budget and ultimately feels perfect in your hand. When you find YOUR perfect machine, you feel confident that you can do the great work you were born to do. For these reasons Girlz Ink carries several different machines on our website and teaches several different machines in our hands on classes. This class will teach you how to set up, break down and how to use several different of the popular machines in the industry today…like The Valhalla, The Xion, The Bellar, The Flux and the Bishop Fantom.
You will learn and experience both traditional wired power boxes and the new wireless battery packs. We will teach you how to properly set the numbers/speed on the power boxes that work best for you and the way you work.
In addition to learning all the machinery and equipment, we will get you on latex and teach you the six core movements and techniques used in machine work…the Hair stroke movement, Circular Movements, Shoveling, Pointillism, Whip shading and the Pendulum Movement.
You will leave this class with a good and thorough understanding of machines, equipment and movements.
Cost: $1150
Class runs from 9:30 am to 5:30 pm
Continental Breakfast and Lunch Provided
Certificate of Training and Class Handout Issued
Call 702-809-8237 or email us at [email protected] to book your spot. A 50% Class Booking Fee is required at time of booking and the remaining fee is required to be paid two weeks prior to class date. WE DO NOT OFFER REFUNDS ON THIS CLASS. NO REFUNDS. IF FOR ANY REASON YOU CANNOT ATTEND THIS CLASS IT IS YOUR RESPONSIBILITY TO SELL YOUR SPOT OR WE WILL TRANSFER YOU TO THE NEXT UPCOMING CLASS.
WE KINDLY ASK THAT YOU DO NOT WEAR ANY PERFUME OR FRAGRANT LOTIONS OR HAIR PRODUCTS TO OUR CLASS. WE HAVE ARTISTS AND TRAINERS THAT ARE HIGHLY SENSITIVE TO SCENT AND SUFFER FROM MIGRAINES. THANK YOU.