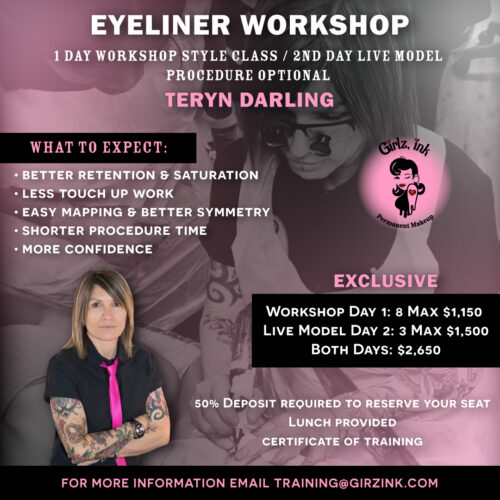 Eyeliner Workshop – 1 Day with 2nd Day Hands-on Option
Are your eyeliners not healing with enough saturation? Is your second session a complete redo? Are your eyeliners losing the thickness during the healing process and shrinking down way too much? Are you struggling with symmetry? Are your eyeliners just taking waaaay too long?
If you answered yes to one or all of these questions, then I am the trainer for you. And this is the class you want to attend. This class will elevate your eyeliner work and help eliminate these issues. This is a one day workshop with the option of adding an additional day to tattoo your own eyeliner model.
Teryn's Eyeliner Workshop Day One $1150
Friday December 1st, 10am to 6pm   Only 8 Students Max.
Teryn will tattoo a live model eyeliner and while she is doing that, she will be talking and explaining to you what she is doing and why she is doing it that way.  She allows questions during her live eyeliner model and will address all questions.
After her model, Lunch will be provided.  (Breakfast is not so come with your belly full. We do however have coffee, tea and water available throughout the day)
After Lunch, you will spend the rest of the day:
1, Practicing Teryn's movements and techniques on latex.
Practicing dotting, mapping and designing eyeliner on other students.
Practicing hands on stretching.
Lots of discussion and all questions answered.
Teryn does allow you to take video for your own use and reference.
This class does include a one-year access to the Wedge & Wing Eyeliner Design Course
A class Certificate of Training will be issued.
Day Two December 2nd is optional and an additional $1500 equaling a total of $2650 for the two days. Only THREE spots are available on the second day.
Class time is 10-6pm with lunch provided.
Teryn will book you your own eyeliner model and she will be there right by your side guiding you through the entire procedure.   If other students book the second day as well, then you will have the opportunity to stay and observe them working on their models as well.  Although not required, we highly recommend it!  Teryn seeks out every opportunity to teach every little nugget she can.
This is a training format Teryn has found exceptionally successful for students. Expect your healed in saturation to improve. Expect your design and symmetry to improve. Expect  your overall eyeliner results to improve and your confidence to execute the eyeliner procedure with better success.
A 50% CLASS BOOKING FEE IS REQUIRED AT TIME OF BOOKING TO RESERVE YOUR SEAT AND THE REMAINING FEE IS REQUIRED TO BE PAID 30 DAYS PRIOR TO THE CLASS DATE.
Call us at (702)809-8237 for further information!