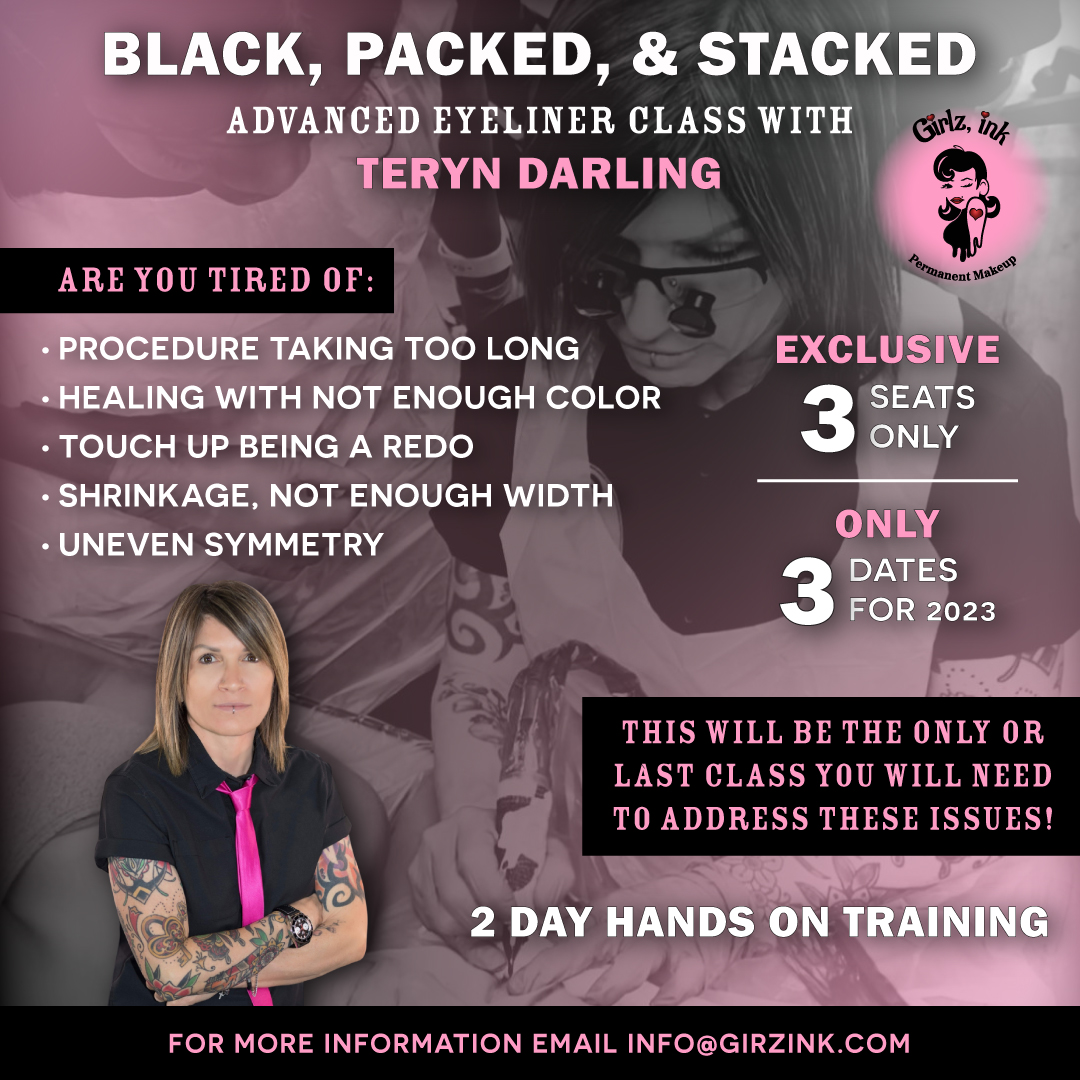 Black, Packed, & Stacked – 2 Day Hands On Eyeliner Class with Teryn Darling
Are your eyeliners not healing with enough saturation? Are you having to re-do a lot, if not all of the eyeliner, at the touch-up? Are your eyeliners losing the thickness during the healing process and shrinking down way too much? Are you struggling with symmetry? Are your eyeliners just taking waaaay too long?
If you answered yes to one or all of these questions, then I am the trainer for you. And this is the class you want to attend. This class will elevate your eyeliner work and help eliminate these issues. After this class and practicing my techniques, you will:
– Have your eyeliners heal with saturation you want and need.
– Minimize your touch up work.
– Stop "Shrinkage" and heal with the width you want and need.
– Nail your Symmetry.
– Get done faster and more efficiently.
This class is not for beginners. You must be at the intermediate level.
I do not tattoo trends and I don't teach trends. I teach straight up core techniques that I have created and mastered over my career. The techniques I teach work on all skin types, will never be unfashionable. will stand the test of time and be desirable to most clients.
EXCLUSIVE 3 SEATS ONLY!!
CLASS FEE $4,750:
12 Month Access to Wedge & Wing Design Online Course
Hands-on training on models (multiple models are provided by Girlz
Ink)
Two Days of nothing BUT TATTOOING EYELINERSW
A yummy lunch and Goody Bag
Training Certificate
Prerequisites:
Must already be tattooing eyeliner
Must be able to control your machine and have pretty good precision
Must be pretty good with depth
Must submit healed eyeliner work so Teryn can assess where you are and to ensure she can help you advance to a higher level of performance.
A 50% CLASS BOOKING FEE IS REQUIRED AT TIME OF BOOKING TO RESERVE YOUR SEAT AND THE REMAINING FEE IS REQUIRED TO BE PAID 30 DAYS PRIOR TO THE CLASS DATE.
Call us at (702)809-8237 for further information!