Areola Restoration with Stacie-Rae – SOLD OUT!!
Areola Restoration
with Advanced Mentoring with Stacie-Rae 
SOLD OUT!!!
For more information on pricing and what's included in the class, please email [email protected].
Enjoy ongoing training and mentorship to learn from the best in the industry.
Learn the ground breaking process that has inspired dozens of the worlds Areola Leaders, most of them trained by Stacie-Rae herself!
Would you like to learn how to safely create an optical illusion on compromised tissue? We teach you how to achieve long lasting natural results that will look better in a few years than they do for the photo!
Work directly with the subject matter expert, Stacie-Rae:
Stacie-Rae helps tattooists really understand what the client has been through. As someone who has lost her own breasts -twice!- she knows more than anyone the mental health impact and that's why this training focuses on healing and is so dedicated to excellence.
The 'A.R.T. Approach':
Prep for Live Training with 20 weeks of online courses, with 3 lessons/week. In-Person Training is incredibly advanced because ALL theory has already been covered and we can use our time together to hyper-focus on the parts that really matter – the scar tissue and trauma! After Training is over, you will have the support you need to be great with a 10-week practicum that includes community outreach, and helpful critiques and collaborative case studies on your own clients for optimal artistic planning. Be ready for anything and confident in your ability to be great!
ONLINE COURSES INCLUDED:
HYPER-REALISM – Fail-Safe Approach to Create Optical Illusion (pre)
TATTOOING SCARS – Learn How Scars Receive + Retain Pigment (pre)
HEALING TATTOOS – Holding Space and Trauma Release (post)
Examples of work created in collaboration with students and Stacie-Rae during this course: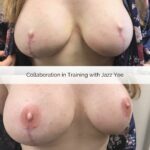 For more information on pricing and what's included in the class, please email [email protected].